Throwback to last weekend where bartenders from across the country competed to win the title of Bartender of the Year at Highball!

The most talented bartenders went shaker to shaker in a very intense competition that included:
- a 2-hours written exam to test their cocktail and spirits knowledge
- a blind tasting challenge
- a mixing at home challenge where bartenders had to create a cocktail from basic ingredients and with tools you would find at home

Then the remaining Top 8 competed at the:
- market challenge where bartenders had to create a cocktail to compliment a food element that they tasted at Atlas (@atlas_wellington)
- and finally, the mighty Speed challenge: 5 cocktails in 5 min.

Our winner for the 2021 edition is Alex Vowles (@alex_vowles) from Hawthorn Lounge (@hawthornlounge) who completed all the challenges with style and precision! Congrats Alex, your hard work and dedication to the art of the cocktail has paid off!

Joining Alex on the podium are:
- 2nd place: Dan Felsing (@drfelsing) from Crumpet (@crumpetbar)
- 3rd place: Andrea Marseglia (@captainspaghetti92) from Piku (@pikuhb) who travelled from Napier - Hawkes Bay.
Our Bartender of the Year 2021 Top 8!
From left to right:
Corbin Parker from ABV Rooftop bar (Wellington)
Louis Danzer from Austin Club (Christchurch)
Andrea Marseglia from Piku (Hawkes Bay)
Ehren Khoo-Steel from Cuckoo Emporium (Wellington)
Charles Gillet from The Last Word (Christchurch)
Jack Driver from Hanging Ditch (Wellington)
Alex Vowles from Hawthorn Lounge (Wellington)
Dan Felsing from Crumpet (Wellington)
Thanks to our partners Federal Merchants & Co., Monkey Shoulder who supported us throughout the organisation of this competition, and to our friends from Gilmours for providing the ingredients for the Market challenge!
Our Bartender of the Year judges. From left to right: Phil Spector (Brand Ambassador - Monkey Shoulder), Andy Griffiths (Bar Legend), Kelly Ryan (Brewery Manager - Boneface Brewing Co.), Max Gordy (Chef), Beth Brash (Head of Programming - Wellington Culinary Event Trust)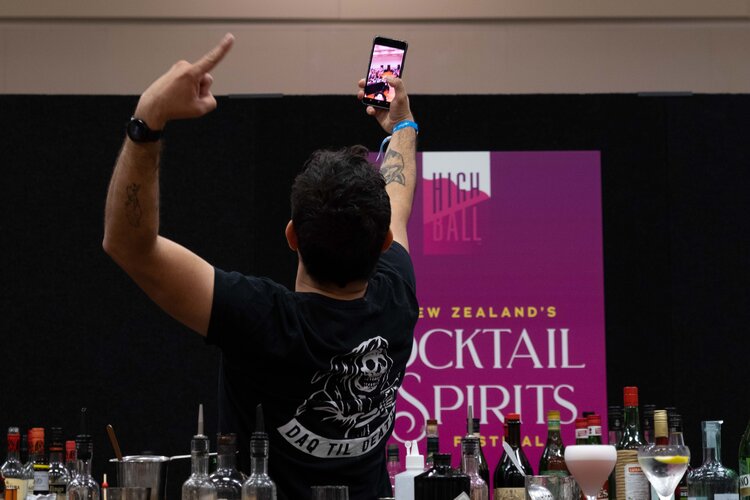 Dan Felsing (Bartender of the Year runner up - bartender at Crumpet)
Alex Vowles (Bartender of the Year winner - bartender at Hawthorn Lounge)
Andrea Marseglia (Bartender of the Year 2nd runner up - bartender at Piku)

Read more about the Highball Bartender of the Year in these articles: